There are currently, 149 guest(s) and 1 member(s) that are online.

You are Anonymous user. You can register for free by clicking here
Welcome to ZPEnergy - The Energy of The Future


This is a NEWS PORTAL dedicated to experimental research on REVOLUTIONARY ENERGY TECHNOLOGIES. We propose to you to use this site as THE concentrator of choice for valuable news on the fascinating but still controversial subject of over-unity (O/U) fuel-less energetics (devices tapping the Zero Point Energy (ZPE)/ Vacuum/ Cosmic/ Ambient energy fields) and related. We want to let the general public know that this is an active field and good progress is made towards validating this technology and bringing the first commercial operational device to the market.



"Mighty, sublime, wonderful, as have been the achievements of past science, as yet we are but on the verge of the continents of discovery. Where is the wizard who can tell what lies in the womb of time? Just as our conceptions of many things have been revolutionized in the past, those which we hold to-day of the cosmic processes may have to be remodeled in the future. The men of fifty years hence may laugh at the circumscribed knowledge of the present and shake their wise heads in contemplation of what they will term our crudities, and which we now call progress. Science is ever on the march and what is new to-day will be old to-morrow."
-- Paul Severing, 1910 (from Marvels of Modern Science)
@------->>> SPECIAL ANNOUNCEMENTS <<<-------@
---> Dear ZPEnergy readers: Earlier this year ZPEnergy celebrated it's 13th year online. Unfortunately, the software running our website is old and it's increasingly difficult to maintain; we must upgrade ZPEnergy to more modern software but we need your support to do it properly. If any funds left, we are also looking into finalizing our Xtreme Science Foundation project (XSF) website. If you would like to help us in this endeavor, please send your Bitcoin donations to: 17Tm5WvZDvhdujABsK84tsPz8dLHg8NuLT ,or use the PayPal option (Support ZPEnergy link).

We much appreciate your support; thank you for your generosity,
Vlad/moderator & Calin/webmaster <---

When (and if) the proposed XtremeScienceFoundation.org site will be up and running, some content from this site will be transferred to the new location and ZPEnergy.com will be available for sale to the public (use Feedback to contact us if you're interested).
For now, please read about the XSF/XS-NRG Prize in our Special Sections, in the Stories Archive and Surveys (comments).


***

Happy Holidays and a Happy New Year!

***



What It Would Really Take to Reverse Climate Change
A must read article from the IEEE Spectrum site (same conclusion I reached when I started this site almost 14 years ago/Vlad): Today's renewable energy technologies won't save us. So what will? / By Ross Koningstein & David Fork

"...We're glad that Google tried something ambitious with the RE-C initiative, and we're proud to have been part of the project. But with 20/20 hindsight, we see that it didn't go far enough, and that truly disruptive technologies are what our planet needs. To reverse climate change, our society requires something beyond today's renewable energy technologies. Fortunately, new discoveries are changing the way we think about physics, nanotechnology, and biology all the time. While humanity is currently on a trajectory to severe climate change, this disaster can be averted if researchers aim for goals that seem nearly impossible..."
Posted by vlad on Sunday, December 14, 2014 @ 13:37:59 EST (206 reads)
(Read More... | 1817 bytes more | comments? | Score: 5)
A New Physics Theory of Life
Art Hunter writes: While reading this link, it had Cold fusion stamped all over it. What do you think?

From QuataMagazine.org: By: Natalie Wolchover/ January 22, 2014
Jeremy England, a 31-year-old physicist at MIT, thinks he has found the underlying physics driving the origin and evolution of life.

Why does life exist?

Popular hypotheses credit a primordial soup, a bolt of lightning and a colossal stroke of luck. But if a provocative new theory is correct, luck may have little to do with it. Instead, according to the physicist proposing the idea, the origin and subsequent evolution of life follow from the fundamental laws of nature and "should be as unsurprising as rocks rolling downhill."

Posted by vlad on Sunday, December 14, 2014 @ 02:51:13 EST (285 reads)
(Read More... | 2188 bytes more | comments? | Score: 5)
Aether Denser than Matter
Via Keelynet.com: It's an interesting inversion ...[re aether being denser than 'matter'] - ie we 'know' that atoms have electrons etc orbiting them, I heard its a circum pole to pole rotation , making a figure 8, not a straight out circular [but thats an aside as I got no source to quote for it [but recall it was from some group that builds vacuum/aether engines].

Aether being denser than matter gave rise to the Hole Theory which is the counterpart to the Electron Theory, electrons supposedly traveling from + to - and holes traveling from - to +....Aether is, in reality, a 2-way street. Deep in my KeelyNet manuscript copies, I remember some learned researcher saying that the Aether is 960,000 times denser than steel. The Aether is denser, not in the sense that it is harder, as in steel hardness, but that the Aether is finer grained, and "grained" means that the basic Anu seems to be 960,000 times smaller than a steel atom.

Posted by vlad on Sunday, December 14, 2014 @ 02:38:05 EST (228 reads)
(Read More... | 6695 bytes more | comments? | Score: 0)
2 Futures Can Explain Time's Mysterious Past
New theories suggest the big bang was not the beginning, and that we may live in the past of a parallel universe /December 8, 2014/ By Lee Billings/ Scientific American

Physicists have a problem with time.

Whether through Newton's gravitation, Maxwell's electrodynamics, Einstein's special and general relativity or quantum mechanics, all the equations that best describe our universe work perfectly if time flows forward or backward.

Of course the world we experience is entirely different. The universe is expanding, not contracting. Stars emit light rather than absorb it, and radioactive atoms decay rather than reassemble. Omelets don't transform back to unbroken eggs and cigarettes never coalesce from smoke and ashes. We remember the past, not the future, and we grow old and decrepit, not young and rejuvenated. For us, time has a clear and irreversible direction. It flies forward like a missile, equations be damned.

Posted by vlad on Saturday, December 13, 2014 @ 23:49:28 EST (744 reads)
(Read More... | 2421 bytes more | comments? | Score: 0)
What Andre Rossi is afraid of?
WGUGLINSKI writes: In his blog Journal of Nuclear Physics Andrea Rossi is trying to transmit wrong information to the readers, when the subject is about the nature of the reactions occurring within his eCat.

For instance, in December 12th Frank Acland posted the following comment:

* Frank Acland
December 12th, 2014 at 10:46 PM

Dear Andrea,

I am sorry I cannot understand Italian — because you apparently had an interesting interview with Salvo Mandarà today.

I have been reading some translated reports of the interview and wonder if you could confirm whether these translated points are correct:
Posted by vlad on Saturday, December 13, 2014 @ 21:31:03 EST (1149 reads)
(Read More... | 8939 bytes more | 4 comments | Score: 0)
In Memory of Arthur Manelas
Via Revolution-Green.com: Arthur John Manelas, 71, of Pelham, NH, formerly of Lowell, MA, died Thursday, after a two year plus battle with complications suffered from a brain aneurysm in September 2012. Arthur was a pioneer of free energy research who had the respect of engineers and scientists worldwide.

I was fortunate to meet Arthur a few years ago. He was a great researcher working from home and assisted by engineers and scientists located from all parts of the USA. You do not see his work splashed across the forums or sensationalized, he was a private person. What he demonstrated to me was the possibility of harvesting energy form unknown sources. Above all he was honest and had integrity. He is part of the 90% of the quiet achievers. Their research that I observed or been privy to, I never talk about as most wish to remain unknown for a variety of reasons. With his passing I felt it appropriate to briefly discuss his work which will be continued by others who were fortunate to work with or have contact with Arthur.
Posted by vlad on Saturday, December 13, 2014 @ 21:14:52 EST (111 reads)
(Read More... | 2118 bytes more | comments? | Score: 0)
IRI Future Energy eNews - Dec 2014
Dear Subscriber, HAPPY HOLIDAYS!

This month IRI is engaged in its once-a-year Fund-Raising Campaign. We depend upon you for continuing the IRI all-volunteer effort to help the world with emerging energy, propulsion and bioenergetics information and we have no payroll expenses for a nonprofit organization, so your donation goes much farther. You can help us make a difference in the academic, commercial, and private arenas with your tax-deductible donation (#2 button on left) or membership (#1 button). If you become an IRI Member before December 31, 2014, we will send directly to you this year's annual Member's gift and next year's too -- annual gifts for TWO years in a row! You might also consider getting that last minute Holiday gift such as the popular EM Pulser with a 30-day money back guarantee and one-year warranty.
Posted by vlad on Saturday, December 13, 2014 @ 13:44:10 EST (217 reads)
(Read More... | 8765 bytes more | comments? | Score: 0)
My good old friend and mentor Dr. Peter Gluck, who runs the excellent blog about the philosophy of science of LENR, "
Ego Out
", has doubted that I would ever mention on ZPEnergy his recent "provocative and heretic writing", titled "The six pillars of LENR+".
I have a tremendous respect for this man, not just because he is a very smart compatriot of mine, but also because he genuinely believes in the truth of this potential huge scientific breakthrough (which was simply named cold fusion when it first emerged), and because his love for it is addictive and hopefully contagious!
Here is Peter's new paradigm: "Cold Fusion, we love you and we will help you to grow up, to become healthy and strong and productive. Now you are just an unhappy little weakling but you are able to change and improve tremendously!" and his proposed Motto: "Other sciences simply are, LENR must become. (A principle of Otherness )"
Posted by vlad on Friday, December 12, 2014 @ 02:20:33 EST (451 reads)
(Read More... | 1714 bytes more | comments? | Score: 0)
New John Bedini DVD released: The Tesla Switch
Tony Craddock

writes: Tom Bearden tells of a trick that old bulldozer operators used to use when their batteries drained while trying to start a balky diesel engine on a cold morning. They would move the leads around on the bank of seemingly flat batteries and tap the terminals. Miraculously the batteries would regain a charge, and the engine could usually be started.


Fast forward to the '70s, when John Bedini discovered that he could do the same thing with a set of keys from his pocket and household 'D' cell batteries.

Then move forward again to when Ronald Brandt, who, being cognizant of a self-running electric car using this self-same principle, approached John to help him sort out the technical problems he was experiencing replicating the process.

Posted by vlad on Saturday, November 22, 2014 @ 18:39:21 EST (684 reads)
(Read More... | 2674 bytes more | comments? | Score: 0)
Gates Looks at LENRs as Future Energy Source
Nov. 14, 2014 – By Steven B. Krivit – (via NewEnergyTimes.net)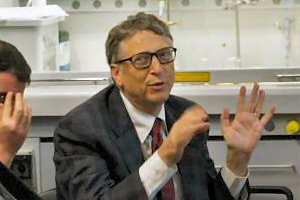 Bill Gates, pioneer in the digital world, is exploring low-energy nuclear reactions (LENRs), the frontier of energy research.
On Wednesday, he visited a small laboratory on the sprawling campus of a government lab in Frascati, just outside of Rome, Italy. The lab is one of several large ones under the Italian National Agency for New Technologies, Energy and the Environment.
While at ENEA-Frascati, Gates listened to a lecture by ENEA scientist Vittorio Violante and observed LENR experiments in his lab. Gates was there with Lowell Wood, a physicist who once worked with Edward Teller at Lawrence Livermore National Laboratory. Wood is now a professor of physics at the University of Houston.
Surprising Rossi (Industrial Heat) Patent Application: COP 11!
Via KeelyNet.com: It has just been published, in the database of the US Patent Office (USPTO), a patent application (doc here) filed on April 26, 2014 by Industrial Heat, regarding some types of high-temperature E-Cats, or "Hot-Cats".

"It seems a very important document. The most relevant part probably regards the COP reached by a Hot-Cat. Already in the 'summary' of the patent application (page 1) we read that the best Hot-Cat has a minimum COP of 5.0: "In at least one example, a ratio defined by dividing the output amount of thermal energy by the input amount of energy exceeds 5.0". And it is precisely the definition of Coefficient of Performance (COP).

Posted by vlad on Sunday, November 09, 2014 @ 22:54:19 EST (503 reads)
(Read More... | 1566 bytes more | 1 comment | Score: 0)
Report on E-Cat by universities of Bologna, Uppsala, and Royal Institute of Tech
WGUGLINSKI writes: On the report Observation of abundant heat production from a reactor device and of isotopic changes in the fuel, by Giuseppe Levi , Evelyn Foschi , and Hanno EssÚn

http://www.sifferkoll.se/sifferkoll/wp-content/uploads/2014/10/LuganoReportSubmit.pdf

In the item 9. Summary and concluding remarks at the page 30, the authors write:

"In summary, the performance of the E-Cat reactor is remarkable. We have a device giving heat energy compatible with nuclear transformations, but it operates at low energy and gives neither nuclear radioactive waste nor emits radiation. From basic general knowledge in nuclear physics this should not be possible. Nevertheless we have to relate to the fact that the experimental results from our test show heat production beyond chemical burning, and that the E-Cat fuel undergoes nuclear transformations. It is certainly most unsatisfying that these results so far have no convincing theoretical explanation, but the experimental results cannot be dismissed or ignored just because of lack of theoretical understanding. "
————————————————————————–

COMMNENT:
Posted by vlad on Wednesday, October 22, 2014 @ 02:24:59 EDT (1117 reads)
(Read More... | 14518 bytes more | 7 comments | Score: 0)
Lockheed Martin Pursuing Compact Nuclear Fusion Reactor Concept
PALMDALE, Calif., Oct. 15, 2014 – The Lockheed Martin [NYSE: LMT] Skunk Works® team is working on a new compact fusion reactor (CFR) that can be developed and deployed in as little as ten years. Currently, there are several patents pending that cover their approach.

While fusion itself is not new, the Skunk Works has built on more than 60 years of fusion research and investment to develop an approach that offers a significant reduction in size compared to mainstream efforts.
E-Cat spurs interest in LENR research in Sweden
Anonymous writes: Comments from Elforsk CEO Sweden in response to latest results from testing the E-Cat (from E-Cat World): Elforsk CEO: Swedish Energy Institute to Build LENR Research Initiative

Elforsk is a cooperative research and development institute that is made up of utilities and other energy companies in operating in Sweden. Today on Elforsk's web site and in the Swedish science and technology magazine Nyteknik, Elforsk's CEO Magnus Oloffsson has written an article responding to the E-Cat testing report published yesterday by the independent European research team,

Here are some of the key points Oloffson makes:

" Clear isotope changes in the analyzed fuel indicates instead that in the case of nuclear reactions at low temperatures. It suggests that we may be facing a new way to extract nuclear energy.Probably without ionizing radiation and radioactive waste. The discovery could eventually become very important for the world's energy supply . . .
New scientific report on the E-Cat shows excess heat and nuclear process
Originally published on Animpossibleinvention.com by Mats Lewan:


A new scientific report on the E-Cat has been released, providing two important findings from a 32-day testrun of the reactor — together leading to the clear conclusion that the E-Cat is an energy source based on some kind of nuclear reaction, without radiation outside the reactor.

The first is an energy release which puts the reactor way beyond conventional (chemical) sources of energy.

The second is a dramatic shift in isotopic composition in the fuel after the testrun, meaning changes have occurred in the atomic nuclei of the elements present in the fuel.
HELP WANTED!
ZPEnergy.com
is looking for
Correspondents
to
Monitor
and
Report
on specific
New Energy
related
Science & Inventor Sites
and
Discussion Groups
. Especially, if you are a member following one or more of the
Discussion Groups
listed in our
Other Info-Sources
panel and want to be our
correspondent
for that particular list, we would like to hear from you. If you appreciate what we''re trying to do here and
want
to
join our team
, please use the
Feedback
or
Private Messages
[to Vlad] to contact us.
We
THANK YOU
for your support of our efforts to inform the public about
ideas, events and breakthroughs
in the energy field that we hope would soon
change the world
into a place we all dream to live in.
Important message
Don't have an account yet? You can create one. As a registered user you have some advantages like theme manager, comments configuration and post comments with your name.
Monday, September 29, 2014
·
IRI Future Energy eNews - Sep 2014
·
Virtual Particles In Electromagnetism
Tuesday, September 23, 2014
·
Rockefellers go green!
·
Forbidden Energy proposal (Visioneering 2014 winner) lost the XPRIZE nomination
Friday, September 12, 2014
·
Discussion on entanglement in the Andrea Rossi blog
Thursday, September 04, 2014
·
DR. RANDELL MILLS ABOUT COLD FUSION
Monday, September 01, 2014
·
NASA successfully tests space drive self-powered by energy from the vacuum
Sunday, August 17, 2014
·
Interview: Tom Brown of Borderland Research
Thursday, August 14, 2014
·
DEFINITIVE BREAKDOWN OF THE QUANTUM MECHANICS
Tuesday, August 12, 2014
·
How God wrote eCat in a mysterious way
Sunday, August 10, 2014
·
Clean Energy Inventions exhibit and Tesla Inventions Exhibition
Friday, August 08, 2014
·
Opensourced : Latest Discoveries in QEG Technology
Wednesday, July 30, 2014
·
Theorists propose way to amplify force of vacuum fluctuations
Tuesday, July 29, 2014
·
The Dayside : The Federal Bureau of Physics
Sunday, July 27, 2014
·
LENR- THEORIES OR PRINCIPLES?
·
IRI Future Energy eNews - July 2014
Monday, July 21, 2014
·
Why support ZPEnergy and Xtreme Science Foundation? (Part 3)
·
Why support ZPEnergy and Xtreme Science Foundation? (Part 2)
Sunday, July 20, 2014
·
Why support ZPEnergy and Xtreme Science Foundation? (Part 1)
·
Why ZPE?
Older Articles

Obstacles are those fearful things you see when you take your eyes off the goal.

-- Henry Ford