There are currently, 112 guest(s) and 0 member(s) that are online.

You are Anonymous user. You can register for free by clicking here
Welcome to ZPEnergy - The Energy of The Future


This is a NEWS PORTAL dedicated to experimental research on REVOLUTIONARY ENERGY TECHNOLOGIES. We propose to you to use this site as THE concentrator of choice for valuable news on the fascinating but still controversial subject of over-unity (O/U) fuel-less energetics (devices tapping the Zero Point Energy (ZPE)/ Vacuum/ Cosmic/ Ambient energy fields) and related. We want to let the general public know that this is an active field and good progress is made towards validating this technology and bringing the first commercial operational device to the market.



"Mighty, sublime, wonderful, as have been the achievements of past science, as yet we are but on the verge of the continents of discovery. Where is the wizard who can tell what lies in the womb of time? Just as our conceptions of many things have been revolutionized in the past, those which we hold to-day of the cosmic processes may have to be remodeled in the future. The men of fifty years hence may laugh at the circumscribed knowledge of the present and shake their wise heads in contemplation of what they will term our crudities, and which we now call progress. Science is ever on the march and what is new to-day will be old to-morrow."
-- Paul Severing, 1910 (from Marvels of Modern Science)
@------->>> SPECIAL ANNOUNCEMENTS <<<-------@
---> Dear ZPEnergy readers: In April this year (2021) ZPEnergy celebrates it's 20th year online. Unfortunately, the software running our website is old and it's increasingly difficult to maintain; we must upgrade ZPEnergy to more modern software but we need your support to do it properly. If any funds left, we are also looking into finalizing our Xtreme Science Foundation project (XSF) website. If you would like to help us in this endeavor, please send your Bitcoin donations to: 17Tm5WvZDvhdujABsK84tsPz8dLHg8NuLT , or use the PayPal option (SUPPORT ZPEnergy link).

We much appreciate your support and thank you for your generosity,
Vlad/moderator & Calin/webmaster <---

When (and if) the proposed XtremeScienceFoundation.org site will be up and running, some content from this site will be transferred to the new location and ZPEnergy.com will be available for sale to the public (use Feedback to contact us if you're interested).


For now, please read about the
XSF/XS-NRG Prize
in our
Special Sections
, in the
Stories Archive
and
Surveys
(comments).
FAS - Project on Government Secrecy
From https://sgp.fas.org: From 1991 to 2021, the FAS Project on Government Secrecy worked to challenge excessive government secrecy and to promote public oversight in national security affairs. This is the archived site of the FAS Project on Government Secrecy (1991-2021). It is no longer actively maintained. Selected Project resources are available below.




Invention Secrecy

: At the end of fiscal year 2022, there were 6,057 secrecy orders in effect.
Posted by vlad on Sunday, September 10, 2023 @ 14:41:18 GMT (1074 reads)
(Read More... | 1696 bytes more | comments? | Score: 0)
ENG8 International latest validation
ENG8 International has developed a low energy catalysed fusion process. Fusion releases over a million times more energy than chemical combustion processes.


Introducing the EnergiCell; a breakthrough in energy technology that produces excess energy using only water or air as fuel.


EnergiCells contain high density plasma, electro-magnetic fields and catalysts that create stable fusion.




This generates energy that is safe, clean, and sustainable, with the potential to transform the energy industry. Prototype EnergiCells have:




- Demonstrated a CoP* of up to 30 in ENG8's laboratory and is targeting a CoP of 5-10 for MVP stage (Minimal Viable Product).

- Been independently verified to produce a CoP of 1.8 in the UK and 1.97 in Portugal.
Posted by vlad on Saturday, August 12, 2023 @ 16:50:29 GMT (254 reads)
(Read More... | 1592 bytes more | comments? | Score: 0)
New proposed superconductor at room temperature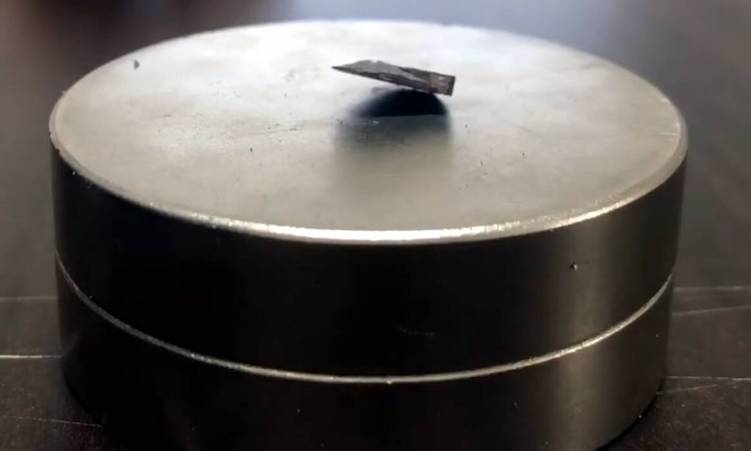 From arxiv.org: Superconductor Pb

10

−

x

Cu

x

(PO

4

)

6

O

showing levitation at room temperature and atmospheric pressure and mechanism
Demonstration of an E-Cat-Powered Electric Vehicle
From Ecatthenewfire.com: Members of the News Media are Invited to Apply to Attend a Demonstration of an E-Cat-Powered Electric Vehicle




MIAMI BEACH, FLORIDA, USA, June 14, 2023 — Leonardo Corporation, the developer of E-Cat technology, is preparing for its most important technology demonstration ever, and because we believe this event will be of great interest to the public throughout the world, we want to give advance notice to journalists about the event.




In October 2023, in Italy, Leonardo Corporation will demonstrate that E-Cat technology, a new type of electricity generator, can continuously charge the battery of an electric vehicle (EV) while the vehicle is in motion.
Where is the energy coming from?
A recent post on e-catworld.com titled: "What to Expect at the E-Cat EV Demonstration", generated again an interesting discussion on the possible source for the excess energy observed in all OU devices and phenomena, including LENR reactions (such as Rossi's controversial "E-Cat"). I do not know who the user AxilAxil is, but I do like his comments and general line of thinking! Here is a sample (go to the source for more):




Axil Axil: All vacuum based reactors will be short lived because of transmutation. It remains to be seen if Rossi or anybody else has or will come up with a solution to mitigate the inevitable destructive and discombobulating nature of transmutation of elements. Every silver lining has a dark cloud to hide it. If the SSM reactor lasts for three years Rossi will be lucky. Think of the SSM as a battery that runs for awhile and then weaken and eventually fails requiring replacement.
Historic Disclosure Conference
Historic Disclosure Conference and DC Screening of "The Lost Century"
June 10 - 11, 2023/ JW MARRIOTT 1331 Pennsylvania Avenue NW, Washington, DC 20004 (Located Between The White House and the Capitol)


+ National Press Club Event

Monday, June 12, 2023/ 529 14th St NW, Washington, DC 20045





Explosive New Disclosure Witnesses and archives unveiled over an intensive 2-day conference, followed by the Disclosure 2.0 National Press Club Event.




Get ready to have your mind blown by the jaw-dropping witness testimony at the upcoming conference! We've only scratched the surface of what's in store for you. Brace yourself for revelations that will challenge everything you thought you knew about UFOs/UAPs.




"...Featured in the film will be actual free energy/zero point technologies that have existed for over a hundred years, AND brand new ones that Dr. Greer's team has investigated — and TESTED as real!..."

Practical Applications of the Fractal Toroidal Moment
Via https://e-catworld.com: Abstract: "Practical Applications of the Fractal Toroidal Moment" (Bob Greenyer)




Thanks to Bob Greenyer for sharing the following link to an abstract he has submitted for the upcoming

ICCF-25

conference which is to be held in Szczecin, Poland in August of this year.

The title is: "Practical Applications of the Fractal Toroidal Moment"

Robert William Greenyer

Martin Fleischmann Memorial Project (MFMP), UK

(Email: m.fleischmann.memorial@gmail.com)
Posted by vlad on Wednesday, April 19, 2023 @ 18:09:41 GMT (18153 reads)
(Read More... | 2177 bytes more | comments? | Score: 4)
Physicists Use Quantum Mechanics to Pull Energy out of Nothing
Via QantaMagazine.org: Physicists Use Quantum Mechanics to Pull Energy out of Nothing by Charlie Wood


The quantum energy teleportation protocol was proposed in 2008 and largely ignored. Now two independent experiments have shown that it works.
The new quantum protocol effectively borrows energy from a distant location and thus violates no sacred physical principles. Kristina Armitage/Quanta Magazine

For their latest magic trick, physicists have done the quantum equivalent of conjuring energy out of thin air. It's a feat that seems to fly in the face of physical law and common sense.

Posted by vlad on Thursday, February 23, 2023 @ 11:20:36 GMT (18729 reads)
(Read More... | 3822 bytes more | 1 comment | Score: 5)
Invitation to ICCF-25 Szczecin, Poland
We are pleased to inform you that the 25th International Conference on Condensed Matter Nuclear Science, ICCF-25, will be held in Szczecin, Poland, August 27 – 31, 2023. The progress in nuclear science, material science, nanotechnology and engineering, advances in condensed matter science, lattice confinement and many other developments give us the opportunity to discuss the details on low-energy nuclear reactions (LENR). The conference is organized by the University of Szczecin. Details, announcements and updated information can be found on the conference web page: https://iccf25.com
Conference registration and abstract submission is now available.
Posted by vlad on Thursday, February 16, 2023 @ 18:56:40 GMT (18261 reads)
(Read More... | 4031 bytes more | comments? | Score: 0)
Brillouin Energy begins commercialization of pulsed catalyst electric heating
From einpresswire.com/: Greg Knight and Chester Aldridge partner to lead breakthrough clean energy electric heating system to commercialization




Brillouin Energy begins commercialization of pulsed catalyst electric heating system




BERKELEY, CALIFORNIA, USA, February 13, 2023 /

EINPresswire.com

/ -- Brillouin Energy Corp. (

https://brillouinenergy.com

) announced today that Senior Executives

Greg Knight

and

Chester Aldridge

have begun a long term executive level advisory engagement to actively guide leadership of Brillouin Energy Corp.'s next stage of development: Rapid commercialization of its patented clean energy electric heating system, and build-out of the Company's pilot manufacturing facility.
Posted by vlad on Tuesday, February 14, 2023 @ 11:55:17 GMT (20370 reads)
(Read More... | 9158 bytes more | 1 comment | Score: 5)
ChatGPT on tapping the ZPE field
One of the commentators (Engineer48) to a post, on the e-catworld.com site, titled "Where Does the E-Cat Get Its Energy From?", shared his interesting exchange with the AI bot "ChatGPT" on the subject of tapping the ZPE field. Here are some of the comments:




Engineer48: This ChatGPT discussion was very informative.




Seems that virtual electron and positron annihilation is very rare as virtual electrons and positrons can wink into and out of existence without needing any action by other particles. Which explains why the vacuum is not full of 411kv gammas. Which is a very good thing.




ME: Please explain the process of virtual particle Annihilation.
Posted by vlad on Friday, January 20, 2023 @ 19:14:36 GMT (18503 reads)
(Read More... | 9134 bytes more | comments? | Score: 5)
Informational Reprieve from 2nd Law of Thermodynamics
DMB writes:
INTRODUCTION

As an important aside, I should mention that this work remains ongoing, if only in the sense that it is up to the reader to make the final assessment of the results, and report/share with the community. Checking the final results has been, for me, a bit like placing a microphone too close to a speaker: the positive feedback has been untenable. Therefore, I have only had "necessary but not sufficient" checks to guide the way. Even if my work is flawed, there may be a possibility of others more skilled 'picking up the ball' where I have left off. I use the pronoun "we" throughout the website just to give myself a sense that I am working with a community, even if it is only me and whatever audience for these ideas there may be.

Thank you for your patience and attention, Deserdi
Via e-catworld.com: Rossi Patent Application: "Electric Energy Generator and Electric Energy Generation Method"




Thanks to Wahid Gurdien for pointing out that a patent application by Andrea Rossi to the Australian Patent office has now been opened on their website.

The title is: ELECTRIC ENERGY GENERATOR AND ELECTRIC ENERGY GENERATION METHOD, and it was filed in December 2021.

Here is the abstract:

"The creation of these virtual particles is favoured by the high density of allowable energy states in vacuum, while they are hindered by the relatively low number of permitted states in an ordinary metallic conductor.
Posted by vlad on Friday, January 13, 2023 @ 23:27:52 GMT (700 reads)
(Read More... | 8933 bytes more | comments? | Score: 5)
Tesla's Concept of Free Space
FDT writes:
In the year 1907, Nikola Tesla wrote:



"Long ago he (mankind) recognized that all perceptible matter comes from a primary substance, of a tenuity beyond conception and filling all space-the Akasha or luminiferous ether-which is acted upon by the life-giving Prana or creative force, calling into existence, in never ending cycles, all things and phenomena. The primary substance, thrown into infinitesimal whirls of prodigious velocity, becomes gross matter; the force subsiding, the motion ceases and matter disappears, reverting to the primary substance"




When studying chemical reactions, it's never expected that we need to know how the electrostatic force exists in the first place, or what is really going on with covalent bonding or ionic bonding, or what an electron actually is.
Posted by vlad on Friday, December 16, 2022 @ 23:56:11 GMT (13923 reads)
(Read More... | 2897 bytes more | comments? | Score: 4)
Calm down. There's no NIF fusion power "breakthrough"
From BigThink.com: There is no "breakthrough": NIF fusion power still consumes 130 times more energy than it creates by Tom Hartsfield




If you gave me $400 and I gave you $3.15, would you consider yourself wealthier? That's a financial analogy for the supposed fusion power "breakthrough."





Key Takeaways
In 2021, NIF's laser fusion energy output jumped by 2,500%, a legitimate breakthrough.
This year, NIF reports that it has achieved "ignition" — that is, it has achieved slightly more fusion energy output than laser energy input.
However, to produce commercial fusion power, NIF would need to increase the fusion output of each experiment by at least 100,000%. The technological hurdles are absolutely enormous.
Posted by vlad on Thursday, December 15, 2022 @ 19:33:50 GMT (12689 reads)
(Read More... | 4886 bytes more | 2 comments | Score: 5)
HELP WANTED!
ZPEnergy.com
is looking for
Correspondents
to
Monitor
and
Report
on specific
New Energy
related
Science & Inventor Sites
and
Discussion Groups
. Especially, if you are a member following one or more of the
Discussion Groups
listed in our
Other Info-Sources
panel and want to be our
correspondent
for that particular list, we would like to hear from you. If you appreciate what we''re trying to do here and
want
to
join our team
, please use the
Feedback
or
Private Messages
[to Vlad] to contact us.
We
THANK YOU
for your support of our efforts to inform the public about
ideas, events and breakthroughs
in the energy field that we hope would soon
change the world
into a place we all dream to live in.
Important message
Don't have an account yet? You can create one. As a registered user you have some advantages like theme manager, comments configuration and post comments with your name.
Monday, December 05, 2022
·
Quantum Vacuum and Zero Point Energy: is 'Free Energy' for all actually possible
·
George Egely Video: "Direct Electricity Production by LENR" (Full Version)
·
NASA's Solid-State Battery Research Exceeds Initial Goals
Sunday, November 20, 2022
·
The Big Misconception About Electricity
Friday, October 28, 2022
·
The Speed of Light in Electric Current and in the Fabric of Space
Saturday, September 24, 2022
·
Quantum prediction comes true
·
US Government investing in "Cold Fusion" research
Monday, September 12, 2022
·
The Hyde Generator (Axil Axil)
Saturday, August 27, 2022
·
Updates from Brilliant Light and Power
Thursday, July 21, 2022
·
Upcoming Brillouin Energy Corp Demo
Monday, July 04, 2022
·
Tom Bearden's Energy Website Down?
·
Geometric Unity - A Theory of Everything (Eric Weinstein)
Sunday, June 05, 2022
·
On Self Sustaining Electromagnetic Structures
Wednesday, June 01, 2022
·
Puzzling Quantum Scenario Appears Not to Conserve Energy
Friday, April 29, 2022
·
A world-first one-way superconductor
Wednesday, April 20, 2022
·
A new heat engine with no moving parts is as efficient as a steam turbine
Tuesday, April 05, 2022
·
HB11's hydrogen-boron laser fusion
Wednesday, March 16, 2022
·
The new biophysics
·
Honoring Tom Bearden
Sunday, March 06, 2022
·
Extracting Zero Point Energy: Does it Violate the Second Law?
Older Articles

Only two things are infinite, the universe and human stupidity, and I'm not sure about the former.

-- Albert Einstein