There are currently, 138 guest(s) and 0 member(s) that are online.

You are Anonymous user. You can register for free by clicking here
Welcome to ZPEnergy - The Energy of The Future


This is a NEWS PORTAL dedicated to experimental research on REVOLUTIONARY ENERGY TECHNOLOGIES. We propose to you to use this site as THE concentrator of choice for valuable news on the fascinating but still controversial subject of over-unity (O/U) fuel-less energetics (devices tapping the Zero Point Energy (ZPE)/ Vacuum/ Cosmic/ Ambient energy fields) and related. We want to let the general public know that this is an active field and good progress is made towards validating this technology and bringing the first commercial operational device to the market.



"Mighty, sublime, wonderful, as have been the achievements of past science, as yet we are but on the verge of the continents of discovery. Where is the wizard who can tell what lies in the womb of time? Just as our conceptions of many things have been revolutionized in the past, those which we hold to-day of the cosmic processes may have to be remodeled in the future. The men of fifty years hence may laugh at the circumscribed knowledge of the present and shake their wise heads in contemplation of what they will term our crudities, and which we now call progress. Science is ever on the march and what is new to-day will be old to-morrow."
-- Paul Severing, 1910 (from Marvels of Modern Science)
@------->>> SPECIAL ANNOUNCEMENTS <<<-------@
---> Dear ZPEnergy readers: In April this year (2019) ZPEnergy will celebrate it's 18th year online. Unfortunately, the software running our website is old and it's increasingly difficult to maintain; we must upgrade ZPEnergy to more modern software but we need your support to do it properly. If any funds left, we are also looking into finalizing our Xtreme Science Foundation project (XSF) website. If you would like to help us in this endeavor, please send your Bitcoin donations to: 17Tm5WvZDvhdujABsK84tsPz8dLHg8NuLT , or use the PayPal option (SUPPORT ZPEnergy link).

We much appreciate your support and thank you for your generosity,
Vlad/moderator & Calin/webmaster <---

When (and if) the proposed XtremeScienceFoundation.org site will be up and running, some content from this site will be transferred to the new location and ZPEnergy.com will be available for sale to the public (use Feedback to contact us if you're interested).


For now, please read about the
XSF/XS-NRG Prize
in our
Special Sections
, in the
Stories Archive
and
Surveys
(comments).
Chirality Turns the Casimir Force Repulsive
Via
APS Physics
: March 4, 2019/
The Casimir force between two metal plates can be made repulsive, tunable, and enhanced, if a chiral material is inserted between the plates.
Bring two parallel, uncharged metal plates close together in a vacuum, and they will attract each other. In principle, this Casimir force could also be repulsive, something that is useful in certain applications, like keeping nanoscale objects apart. But for two plates of the same material that mirror each other, a famous "no-go" theorem says this isn't possible. Now Qing-Dong Jiang of Stockholm University and Frank Wilczek, who holds appointments at the Massachusetts Institute of Technology, Cambridge, and several other institutions, show that the Casimir force can be made repulsive, large, and tunable, by inserting a "chiral" material between the plates.

Focus: Noise Improves Flow of Energy
Via
APS Physics
: February 8, 2019 • Physics 12, 13
- A quantum effect in which random fluctuations help waves to propagate has been demonstrated in a chain of ten atoms.
Helpful noise. Disorder in the electronic states in a row of ten trapped calcium ions can disrupt the flow of energy among the ions. But adding noise to the system can boost the energy flow.
When electrons move in a conducting material or when energy absorbed from sunlight is shifted between molecules during photosynthesis, the process can be described using the wave equations of quantum mechanics. Wave interference can lead to a suppression of the transport of charge or energy, but, counterintuitively, random fluctuations such as thermal noise can actually improve this transport.

Posted by vlad on Monday, February 11, 2019 @ 12:20:10 EST (283 reads)
(Read More... | 2435 bytes more | comments? | Score: 0)
Flow Testing of a Cubic SunCell® Hydrino Reactor
In this test the SunCell® hydrino reactant gas mixture comprises hydrogen fuel added to argon at varying ratios and flow rates to determine the effect on power production. Trace gallium oxide inventory in a large reservoir of liquid gallium serves as a source of O for HOH catalyst. The gallium was injected from the reservoir to a counter electrode and recycled to maintain very low voltage atmospheric pressure plasma. The intensity of the sound of the reaction is indicative of the reaction energetics.
View the video of the hydrino plasma run on our

Videos page

or directly on YouTube.
Posted by vlad on Saturday, January 26, 2019 @ 10:35:12 EST (484 reads)
(Read More... | 2347 bytes more | comments? | Score: 5)
IEEE-Madison (Wisconsin) to hold Meeting on LENR on Jan 31st to View E-Cat Prese
Via e-catworld.com: Thanks to Thomas Kaminski for letting me know about a meeting to be held by the IEEE-Madison (Wisconsin) Entrepreneurs and Consultants Network on January 31st 2019 about LENR. The meeting will coincide with Leonardo Corporation's online presentation of the E-Cat SK, and attendees will watch the event and discuss it afterwards.




The meeting will be held at the Sector67 Community Workspace / Hackerspace / Makerspace at 56 Corry St. Madison, Wisconsin, and will start at 7:45 am local time. The meeting is free and open to the public.




More details are available at this link:
Posted by vlad on Monday, January 14, 2019 @ 08:50:05 EST (1244 reads)
(Read More... | 999 bytes more | comments? | Score: 0)
2018 Update on Brillouin Energy and its LENR Work
In picture is Robert Godes holding a catalytic rod. They believe that sending many short electric pulses down the rods that they are producing the conditions that generate extra heat. There is a di-electric layer with appropriate materials.
Via
NextBigFuture
: Brillouin Energy has made progress since the 2016 SRI report. The 2017 SRI report indicated that the reactions were at a few watts and fairly reliable coefficient of power (COP) of 1.2 to 1.4 and 2 to 3 watts of reaction heat. The 2017 SRI report showed 4 to 6 watts of reaction heat and COP of up to 1.6. Since that report, Brillouin is now at about 50 watts of input and 100 watt of output. The coefficient of power is currently claimed to be reliablly and consistently at 2 in their recent tests.
Posted by vlad on Thursday, December 27, 2018 @ 10:25:05 EST (717 reads)
(Read More... | 1743 bytes more | comments? | Score: 0)
One-Way Transfer of Magnetic Fields
Via
APS-Physics
: Researchers have created a material that acts as a magnetic diode, transferring magnetism from one object to another but not the other way around.
Jordi Prat-Camps creates magnetic metamaterials—structures that manipulate magnetic fields in unconventional ways. Over the last few years, the physicist, who is at the University of Sussex in the UK, and his colleagues have constructed a cloak that makes objects invisible to magnetic fields and a "wormhole" that directs a magnetic field between two points in space along an invisible tunnel, as well as other things. Their latest material—which acts as a magnetic diode—enables unidirectional transfer of a magnetic field between two objects. Prat-Camps says that such a device could increase the efficiency of magnetic-based wireless power-transfer systems.
Posted by vlad on Monday, November 26, 2018 @ 13:35:45 EST (750 reads)
(Read More... | 2620 bytes more | comments? | Score: 0)
Nanotubes may give the world better batteries
Rice scientists' method quenches lithium metal dendrites in batteries that charge faster, last longer
Rice University scientists are counting on films of carbon nanotubes to make high-powered, fast-charging lithium metal batteries a logical replacement for common lithium-ion batteries.
The Rice lab of chemist James Tour showed thin nanotube films effectively stop dendrites that grow naturally from unprotected lithium metal anodes in batteries. Over time, these tentacle-like dendrites can pierce the battery's electrolyte core and reach the cathode, causing the battery to fail.
Posted by vlad on Sunday, November 18, 2018 @ 17:33:45 EST (1004 reads)
(Read More... | 1616 bytes more | comments? | Score: 0)
Why DARPA Is Betting a Million Bucks on an "Impossible" Space Drive
Anonymous writes:
via PopularMechanics/By David Hambling

Agency responsible with filling the government's coffers with cutting-edge tech is funding a controversial drive that's based on unproven science.




The law of conservation of momentum says that a rocket (or anything else) can't accelerate forward without some form of exhaust ejected backward. But in 1998, a British engineer named

Roger Shawyer

announced the seemingly impossible—he had built a closed system that could generate thrust.




Twenty years later and many scientists still call the Shawyer's EmDrive impossible, but that hasn't stopped DARPA, the Defense Department agency that funds potential technological breakthroughs of all kinds, from putting serious money behind it.
Posted by vlad on Monday, November 05, 2018 @ 15:49:25 EST (880 reads)
(Read More... | 1852 bytes more | comments? | Score: 0)
"Electron Structure, Ultra-Dense Hydrogen and Low Energy Nuclear Reactions"
Via E-Cat World: New Paper: "Electron Structure, Ultra-Dense Hydrogen and Low Energy Nuclear Reactions"




Andrea Rossi posted the following on the Journal of Nuclear Physics.




Andrea Rossi/ October 8, 2018 at 10:53 AM

Dear Readers:

I have read today this very interesting paper: "Electron Structure, Ultra-Dense Hydrogen and Low Energy Nuclear Reactions", published on September 30 2018 by Antonino Oscar Di Tommaso ( Università Degli Studi di Palermo, Department of Energy, Information Engineering and Mathematical Models ) and by Giorgio Vassallo ( Università degli Studi di Palermo, Department of Industrial and Digital Innovation ).

Here are elements that can help the theory we are working on: Zitterbewegung of electrons that obey the Dirac equation when in rapid motion can act as catalizers of virtual particles and antiparticles when the T of the field reaches their mass.

Here is the link of this very interesting paper:

Warm Regards,

A.R.
Posted by vlad on Wednesday, October 17, 2018 @ 21:36:43 EDT (809 reads)
(Read More... | 2494 bytes more | comments? | Score: 0)
Wigner crystal—not Mott insulator—in 'magic-angle' graphene
Via University of Illinois/ Physics: University of Illinois team finds Wigner crystal—not Mott insulator—in 'magic-angle' graphene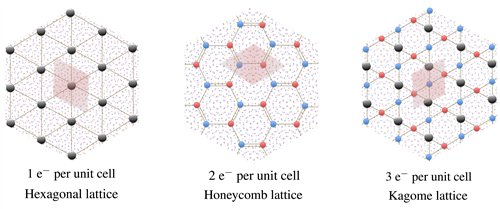 by Siv Schwink




Recently, a team of scientists led by Pablo Jarillo-Herrero at the Massachusetts Institute of Technology (MIT) created a huge stir in the field of condensed matter physics when they showed that two sheets of graphene twisted at specific angles—dubbed "magic-angle" graphene—display two emergent phases of matter not observed in single sheets of graphene. Graphene is a honeycomb lattice of carbon atoms—it's essentially a one-atom-thick layer of graphite, the dark, flaky material in pencils.
Posted by vlad on Tuesday, October 16, 2018 @ 20:16:30 EDT (1005 reads)
(Read More... | 3261 bytes more | 1 comment | Score: 0)
Disruptive Technologies Go Black
From the EnergyFromTheVacuum (Anthony Craddock): "Energy from the Vacuum" - new DVD release: Part 43 - DISRUPTIVE TECHNOLOGIES GO BLACK and THE PROJECT SILVERBUG ZERO-FUEL ENGINE DVD COLLECTION



Had 23 year old Daniel Izzard not taken it upon himself to film Iuean Thomas and put together a documentary that subsequently aired on Canadian Television, the world would never have known that a self powering free energy device had been invented and commercially tested in Toronto, and that this Zero Fuel Engine was intended to power the anti-gravity saucers that were being built in secret at the AVRO aircraft factory after the end of World War II. So successful was this motor invented by Iuean Thomas' Designex team that their emissary had met with U.S. President John F. Kennedy to discuss it, and President Kennedy had arranged to visit their Designex plant in December 1963, or later in January 1964. President Kennedy was assassinated in Dallas November 1963.
Posted by vlad on Monday, October 01, 2018 @ 19:44:29 EDT (923 reads)
(Read More... | 2810 bytes more | comments? | Score: 0)
LENR Explanations - Intermittent, Haphazard Deuterium Ion Linear Alignment?
Anonymous writes: This is not an article. It is mainly "Letter to the Editor" regarding the explanations for LENR.




At the SPESIF 2012 that was then sponsored by Thomas Vallone's Integrity Research Institute, I made two presentations. The first was based on my proposed solute ion linear alignment (SILA) based on my prior paper ASME ES2010-90396 "Solute Ion Coulomb Force Monopole Motor and Solute Ion Linear Alignment Propulsion" and the second was for a new paper that was published by Elsevier as part of the Conference Proceedings "Dielectric Analysis for Torque of Solute Ion Coulomb Force Monopole Motor" which is available online.






Posted by vlad on Sunday, September 30, 2018 @ 16:34:48 EDT (759 reads)
(Read More... | 6096 bytes more | comments? | Score: 0)
Anonymous writes:
LENR might not represent low energy release rates at all. Take a look at Subtle Atomics ICCF 21 presentation. The new MESON alpha sub nuclear reactions. Experimental evidence demonstrates that super dense sub primary electrons can potentially interact directly with nucleon sub components resulting in super high energy annihilation. Sounds like LENR technologies would be better developed for larger GW scale based load plants, rather than focusing on smaller scale decentralized systems. WO




ICCF21 abstracts: LENR Catalyst Identification Model by Simon Brink /Subtle Atomics, Australia/ Manningham Council, Australia




Many Low Energy Nuclear Reaction (LENR) processes are now well known and well documented. LENR processes typically involve the use of specific catalysts to achieve transmutation and/or excess heat. Models previously proposed to explain LENR processes (Widom Larsen, hadrionic, hydronion, shrunken H, etc.) provide many insights into LENR processes, but do not yet provide a theoretical method for identifying catalysts.
Posted by vlad on Thursday, September 27, 2018 @ 19:54:38 EDT (975 reads)
(Read More... | 4205 bytes more | comments? | Score: 0)
Harnessing Zero-Point Energy
by Chas Blakemore - Submitted as coursework for PH240, Stanford University, Fall 2017




INTRODUCTION

:

From the fictional universe of Stargate Atlantis and Marvel Comic's

Realm of Kings

to NASA's Eagleworks Propulsion laboratory, zero-point energy, also known as vacuum energy, is touted as a potentially limitless and ubiquitous source of energy, if one can only find the means to harness it. [1] Zero-point energy can be formulated in a few different ways, but in its most basic form, it is the minimal yet non-zero energy of a quantum mechanical system. In quantum field theory, zero-point energy can be considered by computing the expected energy of the zero photon mode. [2] In a system with no physical boundaries, the expected energy of the zero photon mode diverges! Yet, if this energy uniformly permeates all of space-time, it is not directly observable.
Posted by vlad on Saturday, September 15, 2018 @ 15:07:43 EDT (1087 reads)
(Read More... | 5738 bytes more | comments? | Score: 4)
Rossi Effect finally deciphered
WGUGLINSKI writes: Several theorists believe to have found a theory which explains Rossi Effect, including the own Andrea Rossi.
But no one among the several theories proposed is satisfactory, because all of them cannot explain the question ahead.



In order to put a positively charged particle inside an atomic nucleus, there is need to perforate a Coulomb barrier impossible to be perforated under conditions of low temperature and pressure.




For the supposal that cold fusion is able to occur under low conditions of pressure and temperature, there is need to consider that Coulomb repulsion is not so strong as it was considered up to now by nuclear theorists.
Posted by vlad on Friday, September 07, 2018 @ 21:38:16 EDT (1326 reads)
(Read More... | 6623 bytes more | 1 comment | Score: 1)
HELP WANTED!
ZPEnergy.com
is looking for
Correspondents
to
Monitor
and
Report
on specific
New Energy
related
Science & Inventor Sites
and
Discussion Groups
. Especially, if you are a member following one or more of the
Discussion Groups
listed in our
Other Info-Sources
panel and want to be our
correspondent
for that particular list, we would like to hear from you. If you appreciate what we''re trying to do here and
want
to
join our team
, please use the
Feedback
or
Private Messages
[to Vlad] to contact us.
We
THANK YOU
for your support of our efforts to inform the public about
ideas, events and breakthroughs
in the energy field that we hope would soon
change the world
into a place we all dream to live in.
Important message
Don't have an account yet? You can create one. As a registered user you have some advantages like theme manager, comments configuration and post comments with your name.
Wednesday, September 05, 2018
·
Planck's law of radiative heat transfer fails at nanoscale
Monday, September 03, 2018
·
Canadians and the low carbon economy action
Sunday, August 26, 2018
·
IRI - Future Energy eNews (Aug 2018)
Tuesday, August 14, 2018
·
Genesys eRET - 24/7 power from solar ...
Monday, August 06, 2018
·
Hothouse Earth
Friday, August 03, 2018
·
Proposed theoretical explanation for LENR
·
Latest from W. Guglinski theoretical research
Thursday, July 26, 2018
·
TTS Academy Announces The ADAM Research Project
Tuesday, July 10, 2018
·
World record for direct solar water-splitting efficiency
Thursday, July 05, 2018
·
Proven: Graphene Makes Multiple Electrons From Light
Friday, June 29, 2018
·
Ervin László and The Zero-Point Akashic Field
Monday, June 18, 2018
·
EXPERIMENTAL Quantum Anti-gravity
Friday, June 08, 2018
·
"Scientific Breakthrough: Cold Nuclear Synthesis Became Managed"
·
On how Bohr model of hydrogen atom is connected to nuclear physics
Tuesday, June 05, 2018
·
The Physical Essence of Straight Line Motion in the Universal Matrix
Monday, May 21, 2018
·
Self-assembling 3D battery would charge in seconds
Sunday, May 20, 2018
·
The Chiral Particle Radiation Hydrodynamics Effect (Axil Axil)... and more
Thursday, May 03, 2018
·
Earth's Energy Systems
Saturday, April 21, 2018
·
The Unified Field Theory of Nassim Haramein
Saturday, April 14, 2018
·
Rest in peace to Art Bell, the man who made the paranormal normal
Older Articles

We do not see things as they are; we see things as we are.

-- Talmud