There are currently, 279 guest(s) and 2 member(s) that are online.

You are Anonymous user. You can register for free by clicking here
The Proton Radius Prediction and Gravitational Control
On December 20th 2012, Director of Research at The Hawaii Institute for Unified Physics and The Resonance Project Foundation, Nassim Haramein registered a copyright at the Library of Congress (click here to see a copy of the online entry) for his paper Quantum Gravity and the Holographic Mass (QGHM), which was eventually published in the peer-reviewed journal Physical Review & Research International. In his manuscript, Haramein utilized Planck spherical units (PSU) to describe the holographic vacuum fluctuations and extremely accurately predict the charge radius of the proton (the radius of the proton is typically more accurately described as the charge radius because all we can say about the proton is that there is a concentration of positive charge in that region of space which defines what we would think of as the surface of the proton).
Magnetism induced by vacuum polarization at the gold-monolayer interface
Itai Carmeli
(Submitted on 6 Mar 2014)
Giant magnetization of polyalanine monolayers on gold observed in resent years along with unusual large spin selectivity, the potential of the film and its temperature dependence are all explained in the context of vacuum polarization at the gold-monolayer interface. The enhancement is directly related to the fine structure constant, and involves a change in basic physical parameters including changes in the permeability of the vacuum and in the local zero point energy of the gold monolayer interface. Formation of an ordered state by the self-assembly process and the interaction of the monolayer with the gold plasmons form a new state of matter that can interact strongly with the zero point energy.
Upcoming two books by W. Guglinski:
WGUGLINSKI writes:

1) The Evolution of Physics – from Newton to Rossi's eCat

2) The Missed U-Turn – the duel Heisenberg vs Schrödinger
An Expensive Scientific Blunder?
Is the Ongoing Test at Cern on the Gravity of Antimatter via the Alleged "Anti-Hydrogen Atoms" an Expensive Scientific Blunder? /New York, N..y., (PRWEB) June 01, 2014


Pamela Fleming, spokesperson of The Institute for Basic Research, Palm Harbor, Florida, has released an open letter to the Directors of Cern laboratories in Geneva, Switzerland, containing unchallenged technical arguments showing that their ongoing test of the gravity of antimatter via alleged "anti-Hydrogen atoms" may be basically flawed, and requesting due scientific process on alternative more resolutory tests (http://www.i-b-r.org/G-Veneziano-denunciation.htm).

The Electron-Positron Sea
David Tombe writes: In a closed orbit, it is generally assumed that the origin of the centripetal force lies inside the orbit. In the case of the planets in the Solar System, the inward acting centripetal force is caused by the Sun's gravity which is being generated at the centre of the system. In the eighteenth century however, John Bernoulli the younger drew attention to the idea that the centripetal force in a closed orbit can also be due to the centrifugal force of surrounding orbits that are all pressing against each other while striving to dilate.

Experiments with Coler magnetic current apparatus
by T. Ludwig, Physics Procedia/ Volume 20, 2011, Pages 446–456 /Space, Propulsion & Energy Sciences International Forum

Abstract

Experiments with a replica of the famous Coler "Magnetstromapparat" (magnetic current apparatus) were conducted. The replica was built at the same institute at the Technical University of Berlin where the original was tested by Prof. Kloss in 1925. The details of the setup will be presented in this paper. The investigation of the Coler device was done with modern methods. The output was measured with a digital multi meter (DMM) and a digital storage oscilloscope (DSO). The results of the measurements will be presented. Did Coler convert vacuum fluctuations via magnetic, electric and acoustic resonance into electricity? There is a strong connection between magnetism and quantum field radiation energy. The magnetic moment of the electron is in part an energy exchange with the radiation field.

Nikkei Reports Mitsubishi to Use LENRs To Clean Nuclear Waste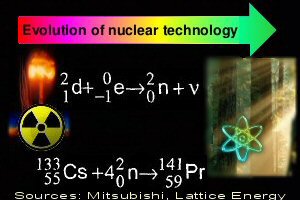 April 24, 2014 – By Steven B. Krivit – On April 8, 2014, Nikkei, the Japanese equivalent of the Wall Street Journal, reported that Mitsubishi Heavy Industries in Yokohama, Japan, plans to use low-energy nuclear reactions to clean nuclear waste. This patented LENR transmutation method was developed by Mitsubishi physicist Yasuhiro Iwamura.

New Energy Times has translated the Nikkei story below. We have also placed online a copy of a recent slide presentation from Iwamura and an updated European patent specification from the company.
Posted by vlad on Saturday, April 26, 2014 @ 23:48:21 EDT (4067 reads)
(Read More... | 1494 bytes more | comments? | Score: 0)
KickStarter projet for a new book about Ball Lightning Technology
Anonymous writes: New technology will protect planet earth through a revolution in low cost clean energy from our discovery of a ball lightning answer.

"Protect Planet Earth with Ball Lightning Technology."

This new technology will protect planet earth by leading to a greener society. It will bring a revolution in low cost clean energy for homes, buildings, and vehicles. Local generation of clean energy will, over time, reduce energy generated from burning fossil fuels (which causes CO2), and it will reduce energy from nuclear fuels.
Final failure of the nuclear models of the Standard Nuclear Physics
WGUGLINSKI writes: Ahead is a discussion between Mr. Joe, Mr. JR, and Guglinski, in the blog Journal of Nuclear Physics.

http://www.journal-of-nuclear-physics.com/?p=841&cpage=7#comments

From the discussion we get the following indisputable conclusion:



"the light nuclei with equal pair quantity of protons and neutrons violate the monopolar nature of the electric charges"




Posted by vlad on Monday, April 14, 2014 @ 21:22:46 EDT (4271 reads)
(Read More... | 33636 bytes more | comments? | Score: 0)
Einstein, the greatest crackpot of the Physics
WGUGLINSKI writes: After the publication of his Special Relativity in 1905, Einstein became the greatest crackpot of the Physics. But in order to understand why, we have to learn what the name "crackpot" means when it is applied in the Theoretical Physics.

In 1998 Rabbi Shlomo Riskin had defined what the designation "crackpot" means when it is applied to a theorists, saying the following: "When you're one step ahead of the crowd you're a genius. When you're two steps ahead, you're a crackpot."
Engineering Physical Reality
Y
et again, Tom Bearden shows that he is one of the most original science conceptualists on the planet.
Not just a conceptualist, but also a modern day detective as Tom takes us in baby steps through the process that allows inventors such as John Kanzius to condition the vacuum, which enables him to burn water. Even reversing human afflictions, such as cancer, can be possible.
These and more is covered in this video, Part 36 of Energy From The Vacuum™ Science Series.
By what Tom calls precursor engineering, the process of engineering physical reality itself can be actualized, and one of the most important keys is the influence of negative energy on what he calls the hierarchy of probabilities, as ordered energy grows to certainty in the observable state.
Unsolved Modern Physics puzzles solved in Quantum Ring Theory
WGUGLINSKI writes: Ahead is exhibited a conversation between Mr. Orsobubu, Mr. Joe, and Mr. Guglinski in the Rossi-Focardi Journal of Nuclear Physics, concerning some unsolved puzzles in current Theoretical Physics:

http://www.journal-of-nuclear-physics.com/?p=841&cpage=1#comments
------------------------------------------------------------------------------------------


The puzzle of the proton radius

Helen Margolis, an optics physicist at the National Physical Laboratory in the UK, remarked in a column for Science magazine last year: "If the results of [further] experiments turn out to reinforce the proton size puzzle, then it could become necessary to question the foundations of the world's most precise and best-tested fundamental physical theory, QED itself."

Posted by vlad on Tuesday, March 11, 2014 @ 22:41:37 EDT (4608 reads)
(Read More... | 35244 bytes more | 1 comment | Score: 0)
Space energy generator -- Paramahansa Tewari
Anonymous writes: Email from Dr W. S. Eidelman (1-03): "Trombly's design is distinctly different from DePalma's. Trombly used the "closed-path" homopolar design, whereas DePalma used an "open-path" design. Trombly's worked, an DePalma's almost worked. Tewari received Trombly's clsoed path design in the mail, from DePalma, who happened onto an international patent application design, without Trombly's knowledge. Because Tewari's theoretical physics were in line with these technologies, and because, as head of nuclear power safety at the nuclear power station near Bombay, he had time, equipment, and funds, he tried out the Trombly/Kahn design, and succeeded..."
Posted by vlad on Sunday, February 16, 2014 @ 07:45:21 EST (5115 reads)
(Read More... | 817 bytes more | comments? | Score: 0)
Encouraging Signs on the Path to Fusion
by Steven J. Rose, Blackett Laboratory, Department of Physics, Imperial College London, London SW7 2AZ, United Kingdom


By adopting a new strategy toward laser fusion, researchers at the National Ignition Facility have produced the highest energy output to date.

For four years, researchers at the National Ignition Facility (NIF) have worked toward an ambitious goal: using powerful lasers to ignite fusion in a tiny target of nuclear fuel. If the fusion reaction releases more energy than the lasers provide—corresponding to a "gain" of greater than 1—NIF could have the makings of a new energy source. But so far, NIF hasn't been able to pass this gain threshold. And because experiments haven't matched up with the predictions of simulations, it has been difficult to figure out what to change. Now, researchers (Park et al.) at the Lawrence Livermore National Laboratory, California, where NIF is located, report in Physical Review Letters the first laser ignition experiment that appears to be behaving according to the predictions of current models [1].

Posted by vlad on Monday, February 10, 2014 @ 16:54:52 EST (4558 reads)
(Read More... | 1742 bytes more | comments? | Score: 0)
The Centrifugal Force Controversy and its Connection with Zero-Point Energy
David Tombe writes: Hi Vlad,

I've started writing again after a hiatus since July 2012. I've attached a paper that covers all the arguments about whether or not centrifugal force exists and the relevance to the background aether.

The subject of centrifugal force causes much controversy in modern physics by virtue of the fact that while on the one hand it can cause real physical effects, yet on the other hand it is deemed to be merely a fictitious force. Indeed there is a large school of thought which preaches that centrifugal force doesn't exist. It will now be suggested that centrifugal force in fact provides the key to the stored energy in the background luminiferous medium. This energy exists by virtue of space being densely packed with tiny dipolar aether vortices that are pressing against each other with centrifugal force while striving to dilate.

Posted by vlad on Sunday, January 26, 2014 @ 18:22:09 EST (5168 reads)
(Read More... | 1285 bytes more | comments? | Score: 0)
Don't have an account yet? You can create one. As a registered user you have some advantages like theme manager, comments configuration and post comments with your name.
Saturday, January 11, 2014
·
PLAGIARISM: law suit against Nature, European Physical Journal, Argonne Nat Lab
Wednesday, December 18, 2013
·
Future Energy eNews - Dec 2013
Wednesday, December 11, 2013
·
Missed z-axis in current nuclear models
Saturday, December 07, 2013
·
COLD FUSION, WHAT NOW?
Tuesday, November 26, 2013
·
Heisenberg's phantasmagoric scientific method applied to Classical Nuclear Physi
Monday, November 18, 2013
·
Conversion of the zero-point energy of the vacuum
Tuesday, October 22, 2013
·
Modern Mythology and Science
Saturday, October 19, 2013
·
About the secret catalyzer used by Andrea Rossi in his E-cat reactor
Monday, October 14, 2013
·
CONSPIRACY AGAINST THE TRUE SCIENTIFIC DISCOVERY
Sunday, October 13, 2013
·
INFERNOS project: Maxwell's Demon in nanoscale systems
Saturday, October 05, 2013
·
ZPE; it's real but it doesn't come from where you think it does!
Sunday, September 29, 2013
·
World As I See It!
Sunday, September 22, 2013
·
PRWeb ANNOUNCEMENTS OF THE R. M. SANTILLI FOUNDATION
Sunday, September 15, 2013
·
The mysteriy of 4Be7 quadrupole moment
Sunday, August 25, 2013
·
Future Energy eNews - August 2013
·
Generating huge amounts of negative energy
Saturday, June 22, 2013
·
Hall-effect Power Generator promises greater returns
Sunday, June 02, 2013
·
Energy Research - The online journal of Alexander S. Petty
·
19 year old Egyptian girl invents ZPE spacecraft propulsion device
Saturday, May 25, 2013
·
Fusion program at MIT is ending
Older Articles

The real voyage of discovery does not consist in seeking new landscapes, but in acquiring new eyes.

-- Marcel Proust