There are currently, 183 guest(s) and 2 member(s) that are online.

You are Anonymous user. You can register for free by clicking here
Report on E-Cat by universities of Bologna, Uppsala, and Royal Institute of Tech
WGUGLINSKI writes: On the report Observation of abundant heat production from a reactor device and of isotopic changes in the fuel, by Giuseppe Levi , Evelyn Foschi , and Hanno Essén

http://www.sifferkoll.se/sifferkoll/wp-content/uploads/2014/10/LuganoReportSubmit.pdf

In the item 9. Summary and concluding remarks at the page 30, the authors write:

"In summary, the performance of the E-Cat reactor is remarkable. We have a device giving heat energy compatible with nuclear transformations, but it operates at low energy and gives neither nuclear radioactive waste nor emits radiation. From basic general knowledge in nuclear physics this should not be possible. Nevertheless we have to relate to the fact that the experimental results from our test show heat production beyond chemical burning, and that the E-Cat fuel undergoes nuclear transformations. It is certainly most unsatisfying that these results so far have no convincing theoretical explanation, but the experimental results cannot be dismissed or ignored just because of lack of theoretical understanding. "
————————————————————————–

COMMNENT:
Posted by vlad on Wednesday, October 22, 2014 @ 02:24:59 EDT (903 reads)
(Read More... | 14518 bytes more | 7 comments | Score: 0)
Posted by vlad on Friday, September 12, 2014 @ 01:57:00 EDT (979 reads)
(Read More... | 65753 bytes more | comments? | Score: 0)
DR. RANDELL MILLS ABOUT COLD FUSION
From Peter Gluck's blog Ego Out: Yesterday, the fastest and best Rossi info source has published a paper entitled: "HYDRINOS AND LENR EXISTING IN PERFECT HARMONY" (http://www.e-catworld.com/2014/09/02/hydrinos-and-lenr-existing-in-perfect-harmony-guest-post/). It is still vividly discussed there.

I have considered that the most authorized person to evaluate the ideas of this paper is Dr. Randell Mills himself.

Randy Mills is, in my opinion a very remarkable scientist and a great personality; we had corresponded starting from 1991. My best friend Mike Carrell and I have constantly and empathically followed the development of Randy's ideas and technologies.

Posted by vlad on Thursday, September 04, 2014 @ 02:40:18 EDT (1872 reads)
(Read More... | 2278 bytes more | 1 comment | Score: 0)
DEFINITIVE BREAKDOWN OF THE QUANTUM MECHANICS
WGUGLINSKI writes: The new experiment published by the journal Nature in the end of 2014 represents the definitive breakdown of Quantum Mechanics, as explained ahead.

1) How photons are emitted by atoms according to Quantum Mechanics

According to the Quantum Mechanics, into the electrosphere of the atoms the electrons do not travel the space between two levels n and n+1. According to the theory, the electron disappears in the level n, and it appears instantaneously in the level n+1, without traveling along the space which separate the two levels.

The reason why the electron does not travel the space between the two levels in the atom is easy to be understood, and it is consequence of the assumptions adopted in the development of the Quantum Mechanics, as seeing ahead :
How God wrote eCat in a mysterious way
WGUGLINSKI writes: Ahead is a discussion between Andrea Rossi, Wlad, Mr. Joe, Mr. JR, and Mr. Curiosone, in the Rossi's blog Journal of Nuclear Physics.


Posted by vlad on Tuesday, August 12, 2014 @ 23:54:59 EDT (1518 reads)
(Read More... | 46826 bytes more | 1 comment | Score: 1)
Theorists propose way to amplify force of vacuum fluctuations
From ScienceDaily: Boosting the force of empty space: Theorists propose way to amplify force of vacuum fluctuations

Source: Vienna University of Technology, TU Vienna

Summary: Vacuum fluctuations may be among the most counter-intuitive phenomena of quantum physics. Theorists have now proposed a way to amplify their force. The researchers believe that their proposed enhancement of the power of vacuum fluctuations can have profound implications for understanding Casimir and Van der Waals forces and it may even be used for applications in quantum information processing and other emerging quantum technologies.

LENR- THEORIES OR PRINCIPLES?
Dr. Peter Gluck writes in Ego Out, his science blog: For LENR, lots of theories, few principles.

Semantics is not quite an exact science; words have different and somewhat fluid meanings. A congress of philosophers could not tell us what are the differences between a theory and a principle however when we are moving in a familiar territory of knowledge where theories abound and principles are not considered relevant & important- we can tell the ones from the others quite easily- just by looking at them; remember the pragmatic definition of pornography. "I know it when I see it"- principle.

In the VUCA world of LENR, there can be intermediary states or hybrids of theories and principles. Theories are knowledge-oriented, more precise and detailed than principles, while principles are action-oriented, implying change.

Theories are interesting and passive, principles active and useful- as a somewhat general rule.

The Proton Radius Prediction and Gravitational Control
On December 20th 2012, Director of Research at The Hawaii Institute for Unified Physics and The Resonance Project Foundation, Nassim Haramein registered a copyright at the Library of Congress (click here to see a copy of the online entry) for his paper Quantum Gravity and the Holographic Mass (QGHM), which was eventually published in the peer-reviewed journal Physical Review & Research International. In his manuscript, Haramein utilized Planck spherical units (PSU) to describe the holographic vacuum fluctuations and extremely accurately predict the charge radius of the proton (the radius of the proton is typically more accurately described as the charge radius because all we can say about the proton is that there is a concentration of positive charge in that region of space which defines what we would think of as the surface of the proton).
Magnetism induced by vacuum polarization at the gold-monolayer interface
Itai Carmeli
(Submitted on 6 Mar 2014)
Giant magnetization of polyalanine monolayers on gold observed in resent years along with unusual large spin selectivity, the potential of the film and its temperature dependence are all explained in the context of vacuum polarization at the gold-monolayer interface. The enhancement is directly related to the fine structure constant, and involves a change in basic physical parameters including changes in the permeability of the vacuum and in the local zero point energy of the gold monolayer interface. Formation of an ordered state by the self-assembly process and the interaction of the monolayer with the gold plasmons form a new state of matter that can interact strongly with the zero point energy.
Upcoming two books by W. Guglinski:
WGUGLINSKI writes:

1) The Evolution of Physics – from Newton to Rossi's eCat

2) The Missed U-Turn – the duel Heisenberg vs Schrödinger
An Expensive Scientific Blunder?
Is the Ongoing Test at Cern on the Gravity of Antimatter via the Alleged "Anti-Hydrogen Atoms" an Expensive Scientific Blunder? /New York, N..y., (PRWEB) June 01, 2014


Pamela Fleming, spokesperson of The Institute for Basic Research, Palm Harbor, Florida, has released an open letter to the Directors of Cern laboratories in Geneva, Switzerland, containing unchallenged technical arguments showing that their ongoing test of the gravity of antimatter via alleged "anti-Hydrogen atoms" may be basically flawed, and requesting due scientific process on alternative more resolutory tests (http://www.i-b-r.org/G-Veneziano-denunciation.htm).

The Electron-Positron Sea
David Tombe writes: In a closed orbit, it is generally assumed that the origin of the centripetal force lies inside the orbit. In the case of the planets in the Solar System, the inward acting centripetal force is caused by the Sun's gravity which is being generated at the centre of the system. In the eighteenth century however, John Bernoulli the younger drew attention to the idea that the centripetal force in a closed orbit can also be due to the centrifugal force of surrounding orbits that are all pressing against each other while striving to dilate.

Experiments with Coler magnetic current apparatus
by T. Ludwig, Physics Procedia/ Volume 20, 2011, Pages 446–456 /Space, Propulsion & Energy Sciences International Forum

Abstract

Experiments with a replica of the famous Coler "Magnetstromapparat" (magnetic current apparatus) were conducted. The replica was built at the same institute at the Technical University of Berlin where the original was tested by Prof. Kloss in 1925. The details of the setup will be presented in this paper. The investigation of the Coler device was done with modern methods. The output was measured with a digital multi meter (DMM) and a digital storage oscilloscope (DSO). The results of the measurements will be presented. Did Coler convert vacuum fluctuations via magnetic, electric and acoustic resonance into electricity? There is a strong connection between magnetism and quantum field radiation energy. The magnetic moment of the electron is in part an energy exchange with the radiation field.

Nikkei Reports Mitsubishi to Use LENRs To Clean Nuclear Waste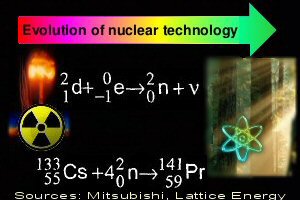 April 24, 2014 – By Steven B. Krivit – On April 8, 2014, Nikkei, the Japanese equivalent of the Wall Street Journal, reported that Mitsubishi Heavy Industries in Yokohama, Japan, plans to use low-energy nuclear reactions to clean nuclear waste. This patented LENR transmutation method was developed by Mitsubishi physicist Yasuhiro Iwamura.

New Energy Times has translated the Nikkei story below. We have also placed online a copy of a recent slide presentation from Iwamura and an updated European patent specification from the company.
KickStarter projet for a new book about Ball Lightning Technology
Anonymous writes: New technology will protect planet earth through a revolution in low cost clean energy from our discovery of a ball lightning answer.

"Protect Planet Earth with Ball Lightning Technology."

This new technology will protect planet earth by leading to a greener society. It will bring a revolution in low cost clean energy for homes, buildings, and vehicles. Local generation of clean energy will, over time, reduce energy generated from burning fossil fuels (which causes CO2), and it will reduce energy from nuclear fuels.
Don't have an account yet? You can create one. As a registered user you have some advantages like theme manager, comments configuration and post comments with your name.
Monday, April 14, 2014
·
Final failure of the nuclear models of the Standard Nuclear Physics
Thursday, April 10, 2014
·
Einstein, the greatest crackpot of the Physics
Sunday, March 30, 2014
·
Engineering Physical Reality
Tuesday, March 11, 2014
·
Unsolved Modern Physics puzzles solved in Quantum Ring Theory
Sunday, February 16, 2014
·
Space energy generator -- Paramahansa Tewari
Monday, February 10, 2014
·
Encouraging Signs on the Path to Fusion
Sunday, January 26, 2014
·
The Centrifugal Force Controversy and its Connection with Zero-Point Energy
Saturday, January 11, 2014
·
PLAGIARISM: law suit against Nature, European Physical Journal, Argonne Nat Lab
Wednesday, December 18, 2013
·
Future Energy eNews - Dec 2013
Wednesday, December 11, 2013
·
Missed z-axis in current nuclear models
Saturday, December 07, 2013
·
COLD FUSION, WHAT NOW?
Tuesday, November 26, 2013
·
Heisenberg's phantasmagoric scientific method applied to Classical Nuclear Physi
Monday, November 18, 2013
·
Conversion of the zero-point energy of the vacuum
Tuesday, October 22, 2013
·
Modern Mythology and Science
Saturday, October 19, 2013
·
About the secret catalyzer used by Andrea Rossi in his E-cat reactor
Monday, October 14, 2013
·
CONSPIRACY AGAINST THE TRUE SCIENTIFIC DISCOVERY
Sunday, October 13, 2013
·
INFERNOS project: Maxwell's Demon in nanoscale systems
Saturday, October 05, 2013
·
ZPE; it's real but it doesn't come from where you think it does!
Sunday, September 29, 2013
·
World As I See It!
Sunday, September 22, 2013
·
PRWeb ANNOUNCEMENTS OF THE R. M. SANTILLI FOUNDATION
Older Articles

Let us set our national goal, in the spirit of Apollo, with the determination of the Manhattan Project, that by the end of this decade we will have developed the potential to meet our own energy needs without depending on any foreign energy source.

-- Richard Nixon (1973)